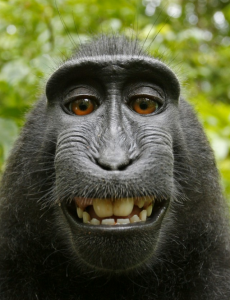 PETA filed suit Tuesday, asking the courts to declare Naruto the rightsholder and hence an owner of property: a copyright.

David Slater, the British nature photographer whose camera was swiped by the ape in the Indonesian jungle, said he has been granted copyright protection in the UK for the photos. He said he was "very saddened" over PETA's lawsuit (PDF) in the United States.

This is the second time this year animal rights groups have asked the US courts to bestow onto monkeys the legal status that humans enjoy. Last month, a New York state court ruled against two chimpanzees represented by the Nonhuman Rights Project that claimed they were being deprived of their civil liberties while being housed at a university research facility.

The copyright case comes a year after regulators from the US Copyright Office agreed with Wikipedia's conclusion that a monkey's selfies cannot be copyrighted. The office said works "produced by nature, animals, or plants" cannot be granted that protection.
Via PETA wants court to grant copyright to ape that snapped famous selfie @ Ars Technica.