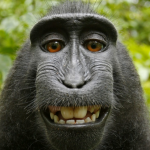 At first blush, a case in which People For the Ethical Treatment intervened on a monkey's behalf to secure a copyright in a photograph that the money took (and receive monetary damages from its infringement)  is about the possibility of a monkey holding a copyright.  That's not a particularly hard question, as the Copyright Act as now written cannot reasonably be understood to apply to animal photographers:

SAN FRANCISCO—A federal judge on Wednesday said that a monkey that swiped a British nature photographer's camera during an Indonesian jungle shoot and snapped selfies cannot own the intellectual property rights to those handful of pictures.

US District Judge William Orrick was tasked with hearing a lawsuit brought by the People For The Ethical Treatment of Animals (PETA). The Animal rights group was trying to represent the 6-year-old monkey, Naruto, in a case brought against the human photographer, David Slater, and his self-publishing platform, Blurb of San Francisco….

The judge said during a brief hearing that he would dismiss the suit in an upcoming order, and at one point said PETA's argument was a "stretch."

"I'm not the person to weigh into this," Orrick said from the bench in San Francisco federal court. "This is an issue for Congress and the president. If they think animals should have the right of copyright they're free, I think, under the Constitution, to do that."
See, Judge says monkey cannot own copyright to famous selfies @ Ars Technica.  (At the bottom of this post, I have embedded Judge William Orrick's order from 1.7.16.)
There's more to this than a six-year-old primate, however: photographer David Slater, British photographer whose equipment Naruto used to snap a selfie, received a copyright in the photograph in Slater's home country.
Although Slater's copyright claim wasn't at direct issue in this matter, it's certainly another aspect of the episode.  Stater contends that it's his copyright because of the work he did carrying his equipment, setting it up, etc.:
"The facts are that I was the intellect behind the photos, I set the whole thing up," he said in an email. "A monkey only pressed a button of a camera set up on a tripod — a tripod I positioned and held throughout the shoot."
That kind of copyright claim – one Slater contends is recognized in Britain – depends on both Slater's human effort, and no subsequent legitimate effort that would supersede his own.
Over at Lexology, Nicholas O'Donnell observes that human effort (although not likely Slater's efforts) might be enough to establish a copyright for a photographer.
So, for now, it's no to the monkey, but maybe to the man.